1 mars 2009
7
01
/

03
/

mars
/

2009
10:05
Thailand - Pro-Thaksin protesters end Bangkok rally: leaders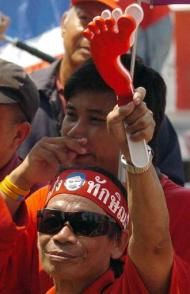 Pro-Thaksin protesters end Bangkok rally: leaders
2 days ago
BANGKOK (AFP) — Supporters of ousted Thai premier Thaksin Shinawatra abandoned a protest camp outside the new prime minister's Bangkok offices, but vowed to continue their fight to topple him.
Hundreds of red-clad protesters have been besieging Prime Minister Abhisit Vejjajiva's Government House compound since Tuesday to push for new elections in Thailand, which has already seen months of political turmoil.
Leaders of the so-called "Red Shirts" had vowed to wage a "protracted" campaign against the two-month-old government, but despite attracting 10,000 people Tuesday, numbers dwindled throughout the week.
"On behalf of democracy-loving people, the Red Shirts have the legitimacy to intensify our fight against disguised dictatorship in order to regain democracy," protest leader Veera Musikapong told the crowds.
"But it is useless to rally at Government House," he said. "To achieve our goal we will carry on our fight in both urban and rural areas, outside and inside parliament."
The dispersal of the rally came as heads of state from the Association of Southeast Asian Nations (ASEAN) began gathering in Thailand's resort town of Hua Hin for the regional bloc's annual summit.
The protesters in Bangkok packed up tents and food stalls and began leaving early Friday, as thousands of police and soldiers retreated from their positions protecting the government complex.
"The last group of police is scheduled to withdraw at 2:00 pm (0700 GMT) to ensure that everything is peaceful and orderly," Lieutenant General Worapong Siewpreecha, commander of Metropolitan police, told AFP.
Veera however warned that pro-Thaksin forces would march on Government House again in a month unless the government met their demands.
As well as calling for new elections, the Red Shirts want the constitution amended and Foreign Minister Kasit Piromya to resign because of his ties to the anti-Thaksin protest group, the People's Alliance for Democracy (PAD).
They also want PAD leaders to face legal action for their week-long seizure in late November and early December of Bangkok's airports, which ended when a court dissolved the Thaksin-linked former ruling party elected a year earlier.
That move ended six months of protests and allowed Abhisit's Democrat Party to fill the power vacuum and win a parliamentary vote, but left many of Thaksin's supporters feeling robbed of their democratic rights.
Abhisit told reporters he was optimistic that his government would be able to prove to the Red Shirts that they were committed to justice.
"I am convinced that within a month there will be substantial progress in terms of the government's work including all court cases (related to the PAD) and political reform," he said.
Telecoms tycoon Thaksin was ousted in a coup in September 2006 and lives in exile to avoid a jail term on corruption charges, but he remains deeply influential in a country split between his friends and enemies.
He is loathed by elements of the old power cliques in the military, palace and bureaucracy -- the core of the PAD's support -- who felt threatened by his immense popularity with the rural poor.


Thailand - Pro-Thaksin protesters end Bangkok rally: leaders